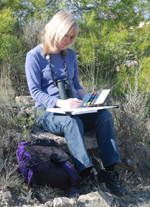 Jackie Garner, wildlife artist, field-sketching in Spain
"Wow! I'd never have thought I could do that"
- Comment from a student
Note: this course is now finished but if you're interested in a similar one, please contact Art Safari for further information.
This wildlife art course was based in Segura de la Sierra, Andalucia, Spain with Art Safari. We're based on a 1,600-acre private estate in the mountains of Andalucia. It's one of Spain's best kept secrets, well off the tourist trail with no noise or light pollution. Hot in summer but tempered by cool mountain breezes.
Everyone can learn to draw but even if you're an experienced artist, sometimes a change of scene and subject can open up whole new avenues to explore. I love to help my students progress - complete beginners wondering where to start, enthusiastic amateurs on a journey, or experienced artists looking for a new challenge.
Herrerias de Rio Madera, North East Andalucia


The Sierra de Segura Natural Park is Spain's largest protected area with mountains, beautiful valleys, lakes and rivers. The Park we're staying in is a Special Protection Area for migratory birds. The wide diversity of species in the Natural Park ranges from the tiny and exquisite 'viola cazorliense' (Cazorla violet) to wild boar, eagles, vultures, mountain goats, wild cats and deer.
The exceptionally picturesque village of Hornos de Segura also provides us with stone courtyards, castles and far-reaching views to paint. While the wildlife can't always be relied upon to co-operate, there's so much to see here that you won't be short of inspiration. And anyway, the breath-taking scenery is a pretty good alternative.
Together with year-round sunshine it's the perfect combination for an unforgettable art safari, with glorious views, wildlife observation from tree hides, bird-watching, nature trails, and forest and mountain tracks.
About the accommodation
Our traditional stone Andalusian farmhouse is set in the heart of the Sierra de Segura Natural Park and is wonderfully comfortable and furnished to a high standard. It is for our exclusive use with a heated outdoor swimming pool and terraces for tapas and relaxation between painting sessions.
Tour cost per person sharing: from £995
What's included
All accommodation, art safari tutor, meals as per itinerary
(internal transfers – tbc).
Not included: Airfares from your home country, optional activities, art materials, personal expenses.
Interested? Contact Art Safari at artsafari.co.uk/
Comment from a student:
"A couple of years ago I was struggling so much with my art that I was considering giving up altogether. Then I came to one of your classes and it changed everything. I've never looked back."
---