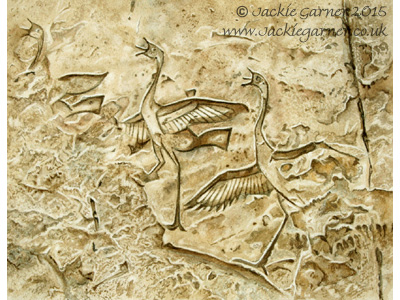 The Dancing Cranes of Armana is a watercolour copy of a real stone carving in the royal tomb at Amarna. As we weren't allowed to photograph inside the tomb and anyway the light was terrible, I had to copy it into my sketchbook by torchlight! The painting was done in my studio from the sketch when I returned to England.
It's part of an ongoing project illustrating the wildlife of Ancient Egypt - the first stage will be complete when we publish a book of bird images. I've also been looking into the materials and art techniques that the ancient Egyptians used, and it's fascinating.
See more paintings from my Wildlife Art of Ancient Egypt collection.


Why choose an original painting?
- Original artwork enhances your room and lifts your mood. Feel a rush of pleasure every time you look at it.
- Be the envy of your friends and family with a unique piece of artwork - no one else has this painting
- Own the perfect piece for your home
- Bring the beauty of wildlife and Ancient Egypt into your home
Original: Framed original watercolour for sale £540
41cm x 47cm / 16" x 18.5"

Shipping not included. Please contact me for further details and delivery options.

Limited Edition
Giclee Prints:
There are no prints of this particular image but you can buy prints of a very similar picture, Dancing Cranes: