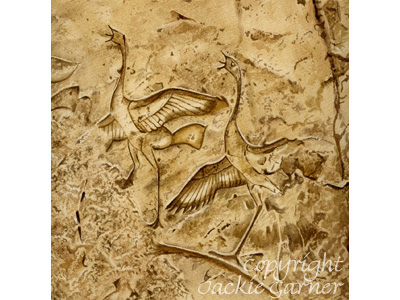 Dancing Cranes is my accurate-as-possible watercolour copy of a real stone carving in the royal tomb at Amarna. I copied the design in to my sketchbook by torchlight! The painting was done in my studio from the sketch and reference photos when I returned to England. It's part of an ongoing project illustrating the wildlife of Ancient Egypt - the first stage will be complete when we publish a book of bird images. I've also been looking into the materials and art techniques that the ancient Egyptians used, and it's fascinating.
See more paintings from my Wildlife Art of Ancient Egypt collection.


Why choose a limited edition giclee print?
- Doesn't fade or decay even in strong sunlight, a piece to treasure
- Details as sharp and fresh as the original painting, for a fraction of the price

- Bring the beauty of Ancient Egypt into your home
- Choose artwork that compliments your décor or stands out and makes a statement
Prints
Giclee print, edition limited to 250, individually signed by the artist
Approx 23cm x 24cm /
9" x 9.75"
Unframed print £40.00 + £7.00 postage & packing.
Prints are sent via
Royal Mail Special Delivery
Original: Sold