You might also like:

Putting on the Ritz
Prints
Greetings cards


Wildlife Art Online Store:
View all originals
View all prints
View all cards
View all puzzles
View all books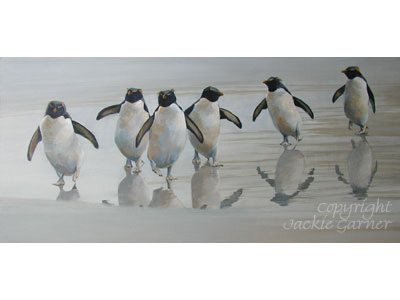 For those of you new to my work, this is the painting that most people associate with me. It's painted in acrylics and was inspired by rockhoppers on Saunders Island in the Falklands. It was a fantastic end to a hard day's sketching, sitting at the foot of the cliffs and watching the penguins coming in from the sea. Black-browed albatrosses were gliding out in the bay, turkey vultures soared overhead, and I'd rarely been happier.
Heading Home was painted when I returned to the UK. It was supposed to be just a quick and straightforward picture, but took much longer and turned out much better than I could have imagined.
Read more about Heading Home on my wildlife art blog.


What's the difference between a limited edition and an unlimited edition print?
Once a limited edition runs out, that's it. You have to wait until someone wants to sell their copy if you want to get your hands on one. It's called the secondary market and as dictated by the laws of supply & demand, prices in the secondary market may command a premium. With an unlimited edition, I can go on printing more as long as I choose and the price stays broadly the same (allowing for inflation).
Heading Home is about two thirds sold. To avoid disappointment and unnecessary expense, reserve your copy now!


Why choose a limited edition giclee print?
- Won't fade or decay even in strong sunlight, a piece to treasure
- Colours as fresh and vibrant as the original painting, for a fraction of the price
- Bring the beauty of Falklands wildlife into your home
- Rekindle memories of a special trip with the perfect keepsake

Prints
Giclee print, edition limited to 250, individually signed by the artist
Approx 24cm x 51cm /
9.5" x 20"
Unframed print £70.00 + £7.00 postage & packing.
Prints are sent via
Royal Mail Special Delivery

Overseas shipping charged
at cost - please contact me before purchase.

Original: Sold