More like this:

Winter Visitors, fieldfares
and redwings


Home to Roost


Wildlife Art Online Store:
View all originals
View all prints
View all cards
View all puzzles
View all books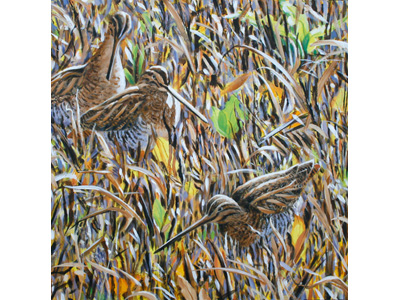 A hot sunny day at my local nature reserve. Snipe, backlit, among the stubble. Afternoon sunlight edging the grasses and shining through leaves. I revelled in warmth, in plumage that mimicked the grasses, in autumnal colours and knew I had to paint the snipe.
I'm always fascinated by the relationship between my subject and its habitat, the repeating colours and shapes and the feeling when I see them. When I look at this painting I can almost feel the sun on my back!


Why choose an original painting?
- Be the envy of your friends and family - no one else will have this painting

- Treat your home and your family to a unique and special piece of artwork

- Rekindle memories of a special moment
- Put the perfect finishing touch to your room


Stubble and Snipe,original painting
acrylic on board
for sale £960
51cm x 51 cm / 20" x 20"
Shipping not included. Please contact me for further details and delivery options.