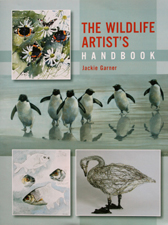 "This book is a much needed and very thorough practical guide to wildlife art that goes way beyond the conventions of a step-by-step guide."
- Bruce Pearson PPSWLA
(Foreword)
"This book is packed with beautiful wildlife art and offers plenty of inspiration."
- BBC Wildlife
"Jackie has succeeded in comprehensively covering every aspect of wildlife art and for an artist just venturing out into the genre it will be an invaluable guide."
- The Wildlife Art Society International

Customer reviews:
"This book covers all the areas that any artist would want who enjoys painting
wildlife."

"A lovely insight into the wildlife artists' world and a great resource for techniques too."

"All those deeper questions that you have, which most texts just don't quite get to addressing, are here."


"A great introduction to the techniques of wildlife observation, drawing and painting and a genuine aid
to the development of these skills."
---
ORDER A SIGNED COPY

Add a message or tell me
who I should dedicate it to
in the box below, then click
'Add to Cart'.


International orders:
please contact me
Originally commissioned as a 'How to Draw and Paint Wildlife' guide, The Wildlife Artist's Handbook gives a more complete picture of the genre. It's designed to support the wildlife artist long after the basic techniques have been explained.
Wildlife art

Chapter 1: Wildlife in Art
Firstly, wildlife art is set in context, by looking at the rich heritage of wildlife portrayal in art history - giving a great excuse to show some fabulous artwork from cave paintings to the present day.

How to draw and paint wildlife

Chapter 2: How to Draw Wildlife
This chapter explores drawing skills, including methods and materials, types of shadows, how to draw a moving subject, adding texture and portraying character.
Chapter 3: Painting and Mixed Media
This chapter looks at adding colour and texture to your work. Topics such as choosing particular brushes for their specific mark-making qualities, modifying colours, using opaque vs transparent colours, and combining different media are included.
Chapter 4: Out of the Studio, Into the Wild
Wildlife doesn't exist in isolation, so it's no use being able draw the main subject without including the habitat - hence a chapter on fieldcraft and working outdoors.
Chapter 5: Anatomy
Anyone who has ever drawn an animal or bird knows it helps to be aware of what goes on beneath fur and feather, so a look at the basic structure of birds, animals, insects and fish, together with information about how birds and animals change as they age, is included.

Chapter 6: Composition
Although the science is important, the purpose of wildlife art is to produce a piece of art, not science, so a chapter on composition helps readers to communicate their visions to the viewers.
Branching out - the wildlife artist's world

Chapter 7: Printmaking and Sculpture
Print-making and sculpture are both well-represented in wildlife art. A chapter about the qualities and methods of each, shows readers the possibilities available and provides inspiration for future work.

Chapter 8: Photography & the Wildlife Artist
In these days of digital images, it makes sense to include photography. Some readers will choose to work from photographic reference, while to others it is an anathema, yet most of us have to cope with photographing our work and submitting images to competitions, websites and blogs. We all need to keep abreast of the laws of copyright. The photographic chapter gives the reader information on all of this, beyond the scope of the 'How To...' books.

Chapter 9: Establishing Your Art
The final chapter helps the reader to establish their art according to their own interests, and looks at pricing work, undertaking commissions, exhibiting and using social media to connect with other artists and collectors. The concept of this chapter is to support the reader as they gain in confidence of their wildlife art skills and look to start sharing their work with a wider audience.
Exploring Wildlife Art
The Appendix lists organisations (with website addresses) around the world, where wildlife art can be seen and studied. A 'Further Reading' list offers suggestions for books on both the practical and aspirational aspects of wildlife art.
Back to The Wildlife Artist's Handbook home page