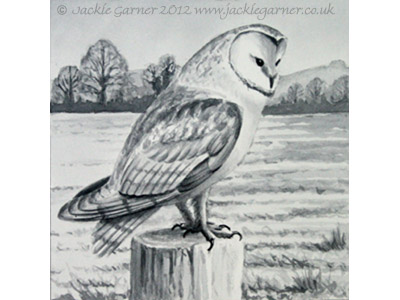 Despite working at Nature in Art Museum for sixteen years it was only once I'd left that I saw barn owls there. The fields, ditches and a dilapidated barn near the museum were certainly ideal owl habitat. I used the frosty early morning view from the Education Centre window as a backdrop for this image. If I'd seen barn owls there every morning I'd never have got any work done!

Hanging tips:
This monochrone picture is great in an alcove or a corner where it adds interest and surprise

With a muted silver frame, this picture works well in all room styles

Why choose an original painting?
- Bring the beauty of the natural world into your home
- Reflect the hobbies that are important to you in your art collection
- Be the envy of your friends and family - no one else will have this painting
Original:
Framed original
monochrome watercolour
painting for sale £175.00
11" x 11.2" / 28cm x 28.5cm
Shipping not included. Please contact me for further details and delivery options.